AMA Vertical Tasting
Château d'Yquem
(2005-2019)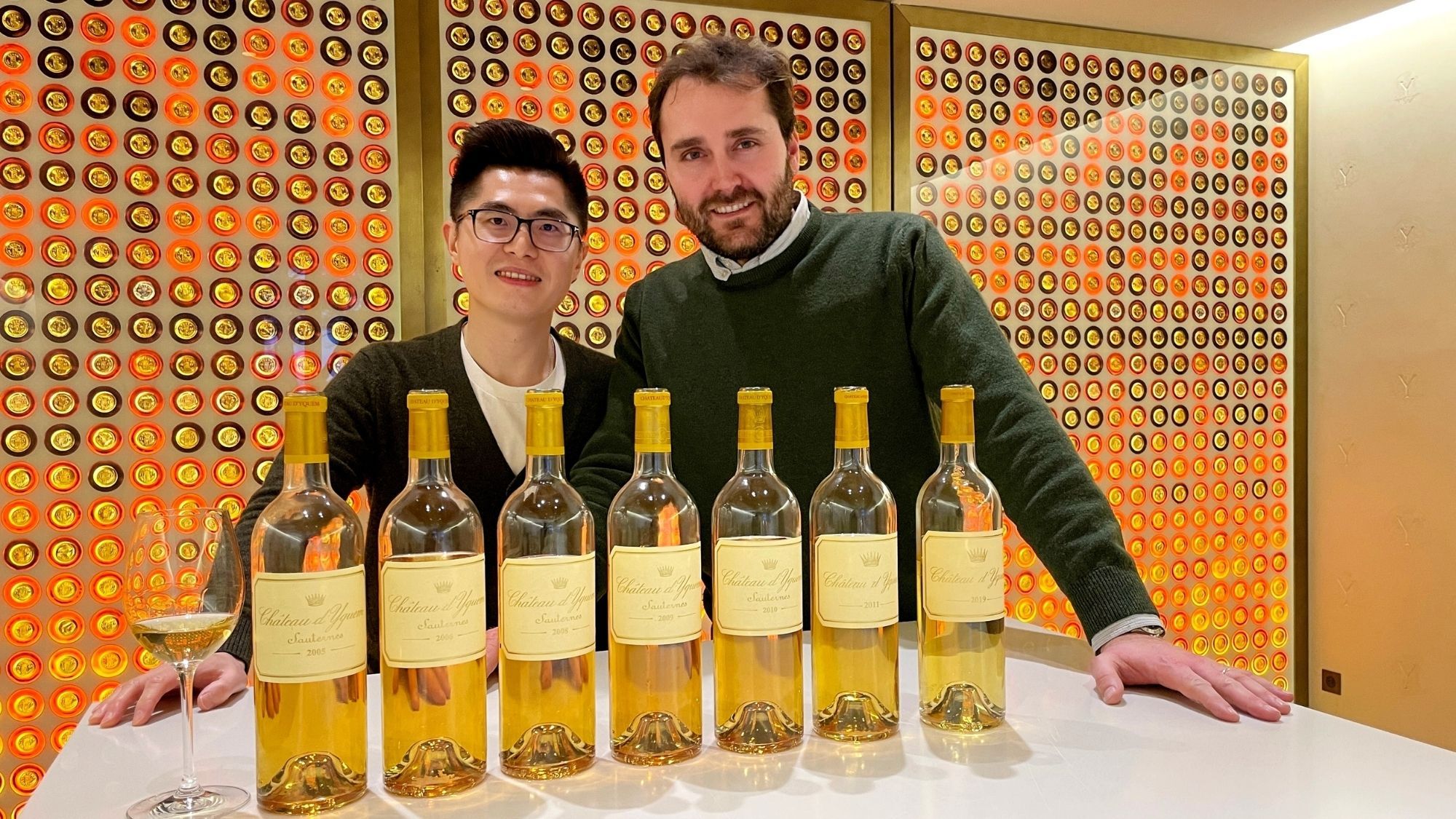 Château d'Yquem: Leading the new trend of Sauternes? 
In Bordeaux, there goes a saying: "there is no poor vintage for Yquem, because it will never ever let you down."
What makes Yquem so confident? You will get the answer by taking a stroll in the vineyards of Yquem during harvest time. The harvest requests of Yquem are so strict to make you bristle.
The botrytis is not homogeneous? No.
The peel is damaged? No.
The fruit has not fully shrunken yet? No.
Not concentrated enough? No….
And so, they often harvest a tiny of qualified grapes from a whole line. Then, they have to harvest several times. Other wineries pay the harvest workers for once, while Yquem should pay for them several times. Once confronted with extremely difficult vintages, Yquem simply made no single bottle (like 2012, 1992, 1974, 1972, 1964, 1952, 1951, 1910).
All around the world, maybe only LVMH can afford such a wilful way of wine-making. So, when Lorenzo, the Technical Director of Château d'Yquem, asked me which vintages I wanted to taste for our vertical tasting, I also gave him a "Yquem-like" answer: "never mind, any vintage goes well." This vertical tasting was like a royal festival that satisfied me from palate to heart. I also gave my first 100 points for Sauternes wines.
As we may know, Yquem is going to launch its vintage of 2019, I will focus on the introduction of this vintage in this article. As for the other vintages' comments, you can get access to them on my website if you are my annual subscribers.
After talking with Lorenzo, I knew that Yquem has thought thoroughly to launch 2019 in March, he mentioned: "the technical team thought 2019 needed more time before bottling, we wished to bottle the wine in perfect condition; meanwhile, the group got more adequate time to warm up the market; Yquem can easily resist the time, but a young Yquem also tastes wonderful." Therefore, since the 2019 vintage, the launch of the Yquem new vintage will fall in March each year.
Yquem 2019 revives my feeling about Sauternes Wine. To be honest, I would not believe Yquem 2019 had 45% of Sauvignon Blanc in the blending if Sandrine, the Cellar Master of Château d'Yquem, didn't tell me that. Maybe for this particular reason, Yquem 2019 offers me a noble and delicate fairy image, rather than the grand and magnificent Yquem in my mind.
At first, I was not adapted to it. But after one night of reflection, I worked out some immature thoughts to share with you.
Sauternes wines prevail over other wines in quality and rarity. But why has not the noble rot wine sold better? For the only reason: the sugar. In a time when green or organic food and the idea of eating healthily become increasingly popular, people are often "scared with sugar" and think the noble rot wine is too sweet. But let's work it through. Yquem is made from grapes. If I tell you that the residual sugar of Yquem is between orange and cherry, lower than peach and apple, only the 1/2 of mango and 1/4 of fig, will you change the idea?
Then, what makes us feel that the noble rot wine is too sweet? The acidity is one of the reasons, absolutely, but another reason is the inborn unctuousness of Sémillon. According to the profile of d Château d'Yquem 2019, when it tastes more translucent and more crystal-clear, I feel less sweetness on the palate.
At this time, I bravely guess that Château d'Yquem may be trying to soften the feeling of sweetness by reducing the unctuousness; in other words, decrease the unctuousness of Sémillon by raising the proportion of Sauvignon Blanc. Would a high proportion of Sauvignon become the next trend of Sauternes wines? At least, from the result of my tasing about Château d'Yquem 2019, It tastes beautifully delicious at a young age, I can't stop drinking several sips even during my professional tasting.
If it was like what I thought, would this trend spread around the entire Sauternes? Would consumers change their traditional thoughts on sweet wines and embrace the Sauternes once again?
Anyway, Château d'Yquem 2019 has delivered us a brand-new image of Sauternes with more modern aesthetics. The butterfly has flapped its wings. I will keep following the legend of Yquem in the future and show you the latest information here in Bordeaux.
See you at the next vertical tasting!
By Alexandre MA
16/03/2022
*Among the wines tasted, only wines above 90 POINTS  are listed