AMA Vertical Tasting
Château Talbot
(1996-2019)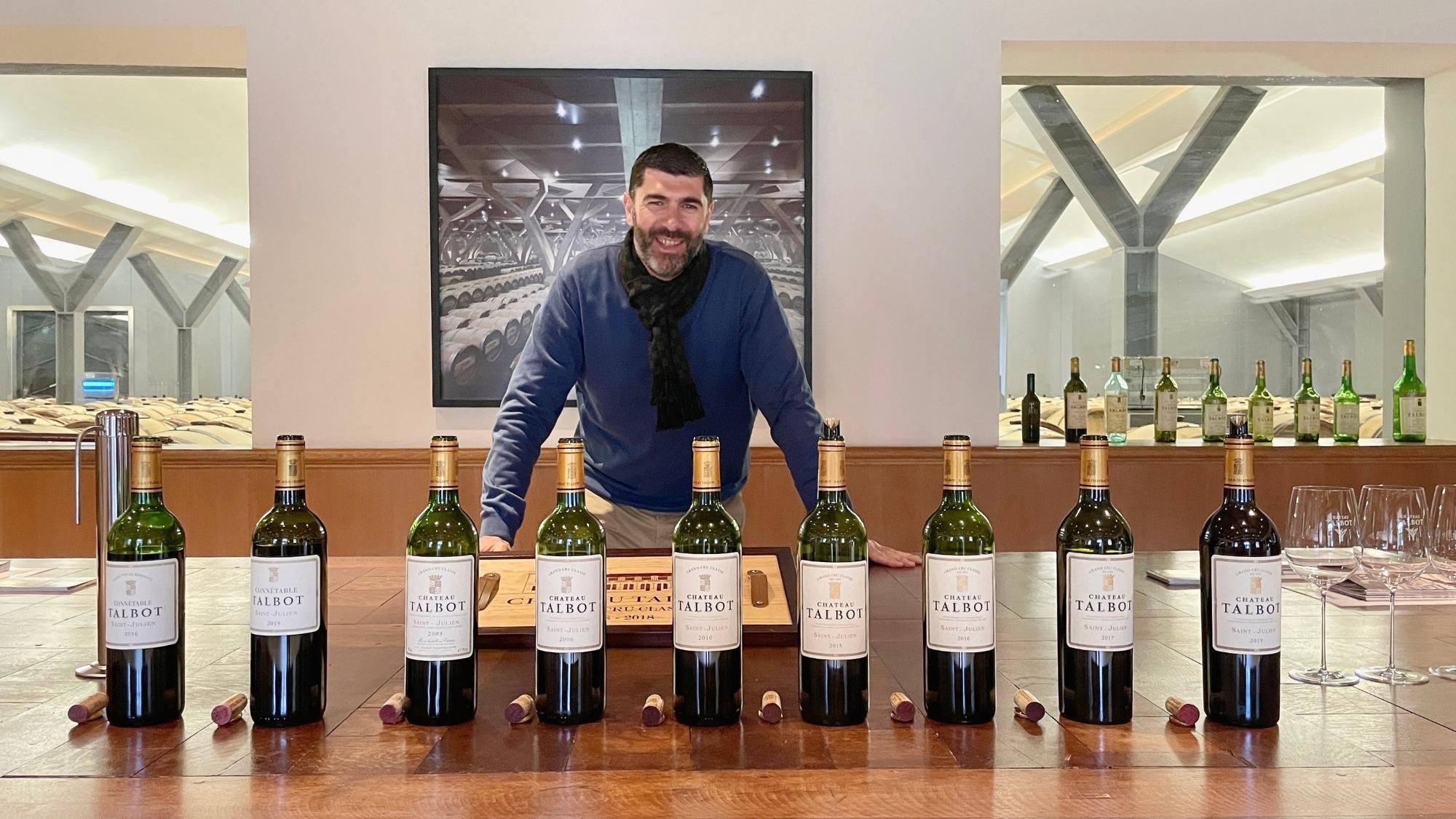 If only one tag can be used to describe Château Talbot, I would pick "freshness". Additionally, its lightness is as gentle as the dragonfly touches the water, which impresses me a lot during my vertical tasting.
You can find the history of Château Talbot very easily, which can be summarized as "one family, one terroir, for a hundred years". Today, I prefer to analyze the terroir and techniques of Château Talbot. If you have a passion for Château Talbot, you can't afford to miss this passage!
Now, it's my show time to tell you the story: why the terroir in Château Talbot is so particular. As I mentioned before, the biggest feature of Château Talbot is freshness. But it is very particular in Saint-Julien, where the wines are famous for their richness and ripeness. The vineyard is located on a 26-meter gravel plateau to the north of Château Talbot, which is the highest place in Saint-Julien. However, it's noticeable that all vineyards of Château Talbot are adjoining in a huge plot rather than spreading in different places. In this way, the winery can be managed efficiently. In French, people called it "Un seul tenant" (meaning "an entire vineyard in the same plot").
Walking into the vineyard, we can discover two different types of soils. On the left of the map, the soil is dominated by gravels, which are smaller than their counterparts in the gravel plateau along the river. The biggest secret of Château Talbot isn't exposed above the ground. Instead, it hides in the underground clay soil. This type of soil is wetter and cooler, providing water while slowing the growth of grapes at the same time. Even in hot and dry vintages, water deficiency is rarely seen. For this reason, I can always sense the freshness in hot and dry vintages like 2000, 2015, 2016, and 2019. Therefore, the previous winemaker Jean-Pierre Marty praised that Château Talbot demonstrates its glory in hot vintages".
On the right of the map, the majority of soil is sandy soil, which produces softer and lighter wine, and it tastes better when it's young. Therefore, most grapes are used to make the Second Vin, Connétable Talbot.
If you could understand these two plots, you got to understand the personality of Château Talbot and Connétable Talbot.
Now, let's see how to benefit techniques to improve the quality. From my vertical tasting, the style of Château Talbot has been pretty consistent in the past 30 years. However, since 2015, tannins have become smoother and more delicate, and you can feel a more lingering aftertaste on the finish.
When chatting with Jean-Michel Laporte, the general director of Château Talbot (Jean-Michel Laporte had made wine in Château La Conseillante for 11 years from 2004 to 2015), I perceived that they were trying some new techniques after the establishment of the new cellar in 2012. In particular, the improvement has become more prominent when Jean-Michel Laporte has been in charge since 2018.
The essential information can be listed as follows:
– Since 2014, the winery has begun to apply Density Sorting, which is mainly used for Connétable Talbot. The purpose is to obtain riper grapes in cool, rainy vintages like 2021.
– Jean-Michel Laporte decided to remove leaves after the grapes has bowed down in June. In this way, the height of leaf removal can be controlled more precisely and thus can facilitate the ripeness of polyphenols in grapes.
– Adjusting extraction. They pump more frequently in the early stage of maceration but much more softly after. In this way, while the same amount of tannins is maintained, their texture can be smooth and velvety at most and thus can make a rounder body wine.
The percentage of new oak barrels has risen from 50% to 60%, which contributes more qualitative toasted tannins to the body's structure. When the sweetness of the wine stands out, the tannins can become milder and smoother, and the body can be more opulent.
However, Jean-Michel also emphasized that, despite the rising percentage of new barrels, the okay notes need to be imperceptible after bottling. Now, it's time to enjoy the wine and make some comments!
Generally, I only tasted the remarkable vintages in the recent 30 years. In my opinion, Château Talbot has been keeping its high quality since 2015. In particular, the vintage of 2017, it is as good as other well-known great vintages. What an excellent value for money for knowledged wine lovers!
At last, I need to highlight that, if a slight reductive note appears in the vintage of 2019 and 2018 recently, please be patient. When I re-tasted Château Talbot 2019 this time, it was totally different from the sample I tasted in November. The fruity bouquet is much more precise after several months of bottle aging.
Okay, that's the end of today's story, see you in the next vertical tasting.
By Alexandre MA
10/03/2022
*Among the wines tasted, only wines above 90 POINTS  are listed