AMA Vertical Tasting
Château Clinet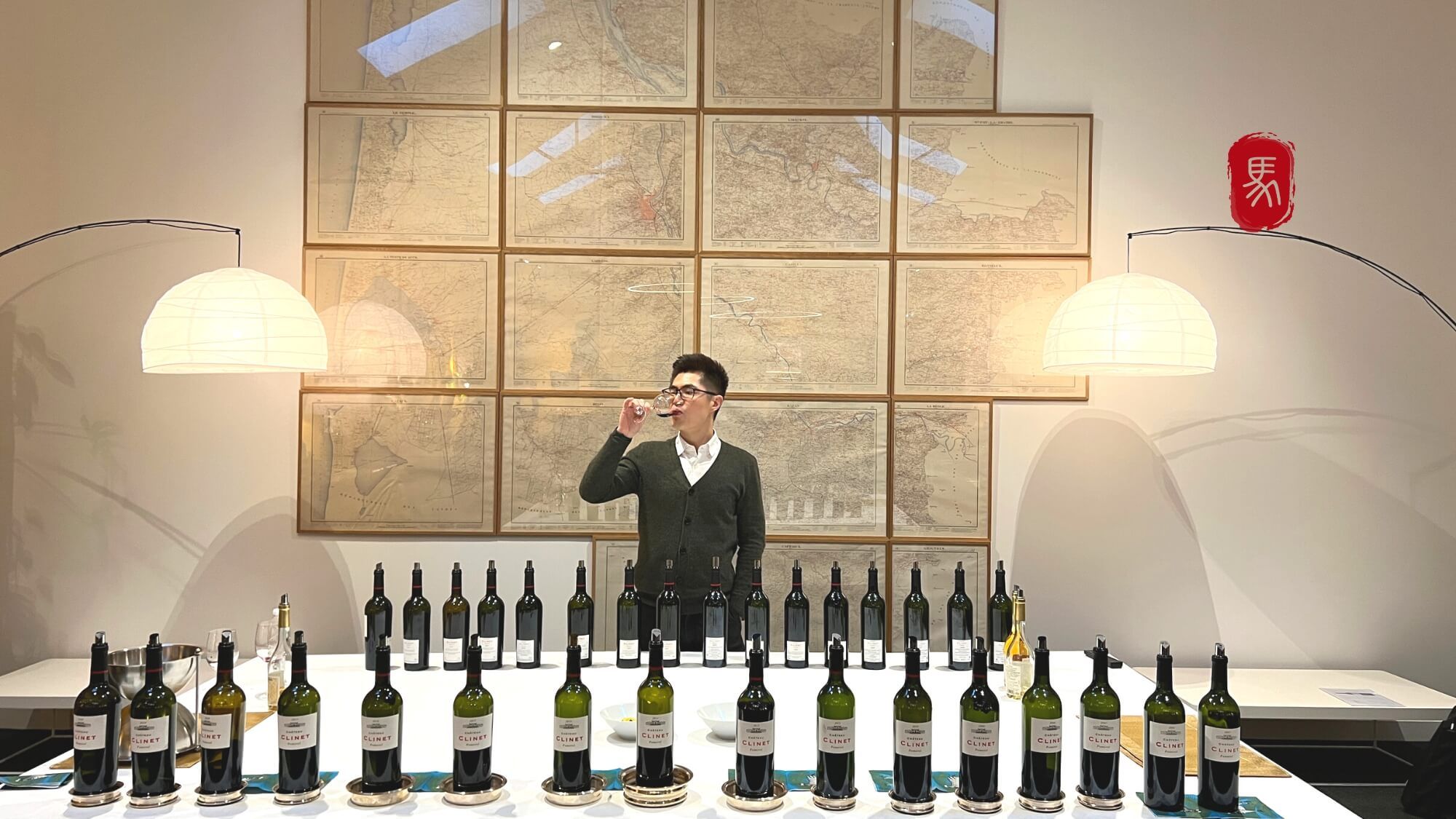 The Red Passion from Pomerol
A Porsche zooms in with the wind, and a stylish gentleman walks towards us. He's dressed in a well-fitted, meticulously crafted suit. When I talk to him, I always feel his hospitality and humility. This is Ronan LABORDE, the leader of Château Clinet. His wife, Monique, is skilled in horse riding, with a bright smile and a confident demeanor. The image of this couple standing side by side is truly pleasing – a blend of sophistication and elegance, coupled with speed and excitement. I believe there's no more fitting way to describe it.
In my view, Château Clinet embodies a passionate red power – an intense and robust Pomerol classic with a strong muscular character. During the tasting process, I always feel its fiery warmth and enthusiasm, creating a vivid, highly saturated oil painting: <The rising sun casts a brilliant red light, as if igniting the entire scene. Upon closer examination, every thick stroke of paint reveals the artist's skillful brushwork>.
This year, I was lucky to have a vertical tasting of 16 vintages from 2005 to 2020. This tasting not only showed me the evolution of Château Clinet but also revealed the essence of its "Red Passion" more profoundly. With this article, I'd like to share my impressions of Château Clinet, hoping that it not only introduces the inner charm of Château Clinet but also allows everyone to feel its exceptional and unique "Red Passion".
Before sharing my personal thoughts, let's talk about the winery's background.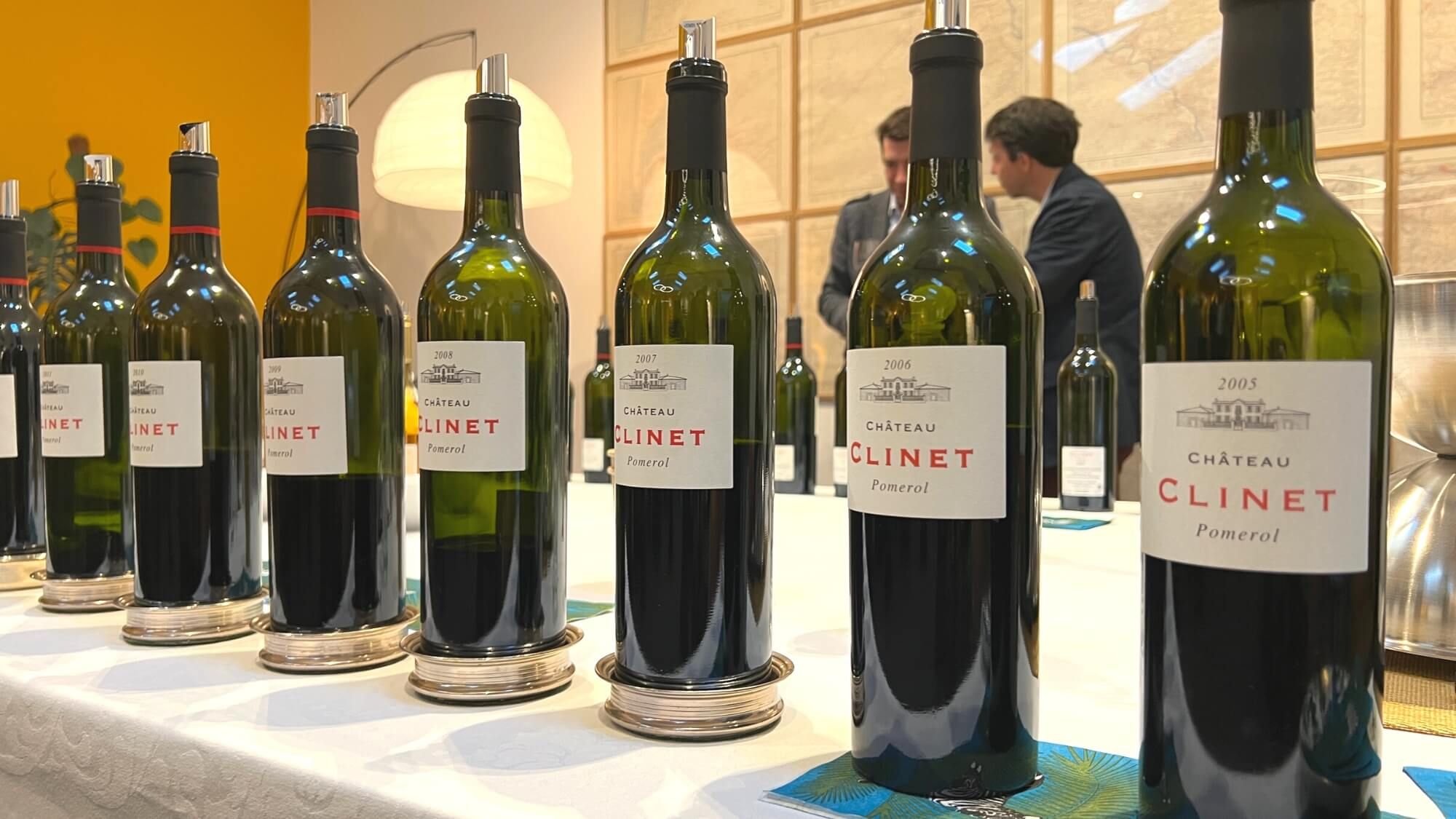 Terroir Chapter:
Château Clinet's 11-hectare vineyard is entirely located on the renowned plateau of Pomerol. The clay and gravel soils here bestow Merlot with a structure and strength akin to Cabernet Sauvignon.
Within the vineyard, where the average age of the vines exceeds 40 years, there's a plot known as "La Grand Vigne," boasting old vines over 90 years old — one of the oldest vineyards in all of Pomerol.
Unlike many right bank estates that use a blend of Merlot and Cabernet Franc, Château Clinet boldly cultivates 12% Cabernet Sauvignon. In certain years, its proportion can even surpass 20% (25% in 2021 and 20% in 2020). Compared to Cabernet Franc, Cabernet Sauvignon brings more power and layers. It displays grander intensity in terms of tannin and body thickness, creating a particularly chewy experience when tasting Château Clinet.
To meticulously tend to this 11-hectare vineyard, daily management is carried out entirely by horses. Though this approach is time-consuming and labor-intensive, it represents the very essence of Château Clinet's terroir in the most primitive and pure manner.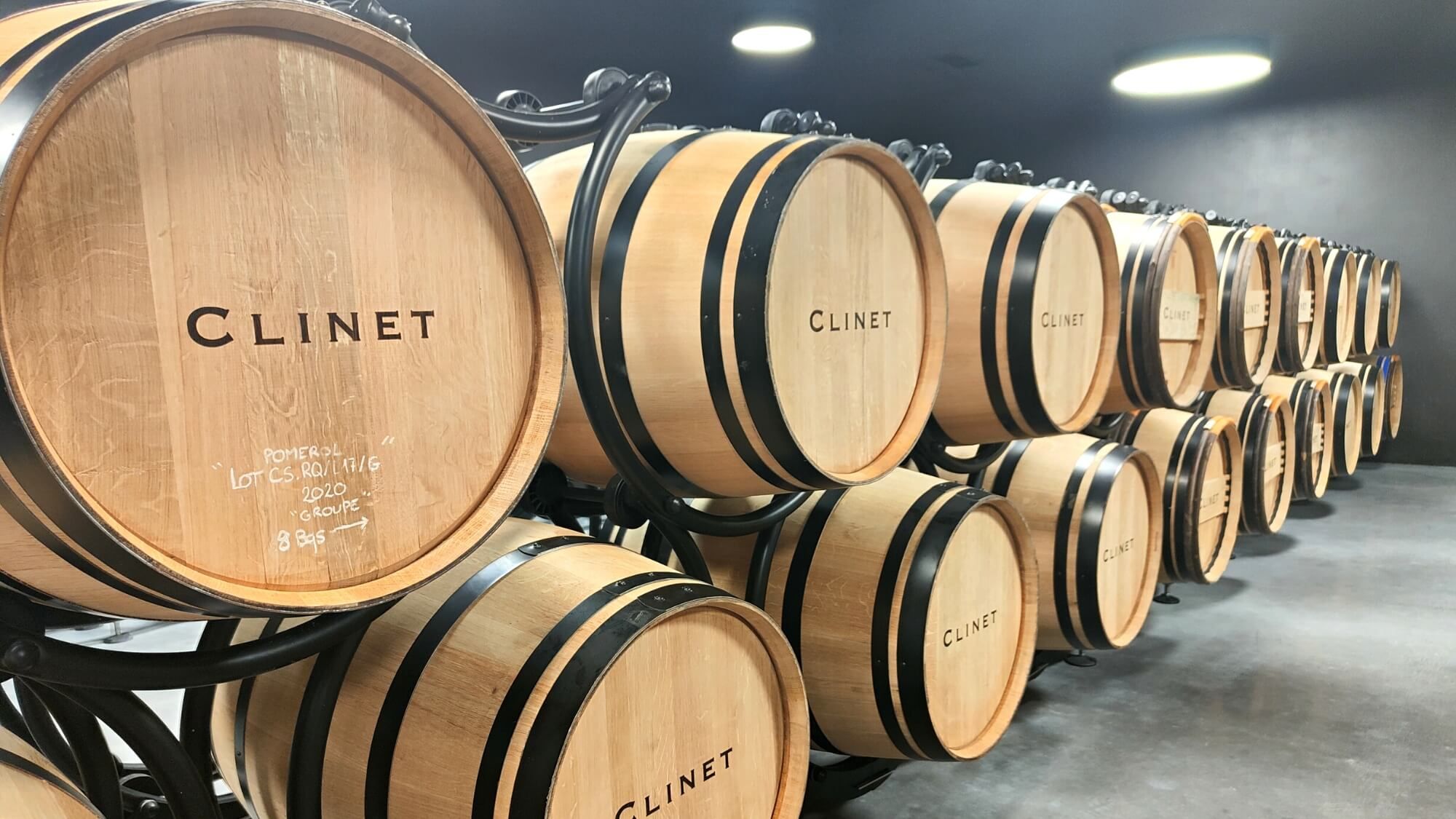 History Chapter:
Château Clinet boasts the oldest vineyards in the Pomerol region, with its planting history tracing back as far as 1595.
In 1825, the Gombault family sold the estate to the Arnaud family, who were former owners of Château Pétrus. Through various changes, Château Clinet found itself under the successful ownership of the Audy family in 1980, managed personally by Jean-Michel Arcaute, the son-in-law of Georges Audy. The Audy family made a bold technological innovation by extending the harvesting time and engaging "green harvesting" – to enhance grape ripeness. This laid the foundation for Château Clinet's rich and robust character.
In the 1990s, consumers greatly admired these "luminous and expressive" wines, then Château Clinet successfully gained popularity worldwide. In 1998, Jean-Louis Laborde took over Château Clinet's legacy from the Audy family. His son, Ronan LABORDE, over the next two decades, fully tapped into Château Clinet's terroir potential. Today, Château Clinet has become an essential pillar in the Pomerol region, representing a classic example of the rich-style Pomerol.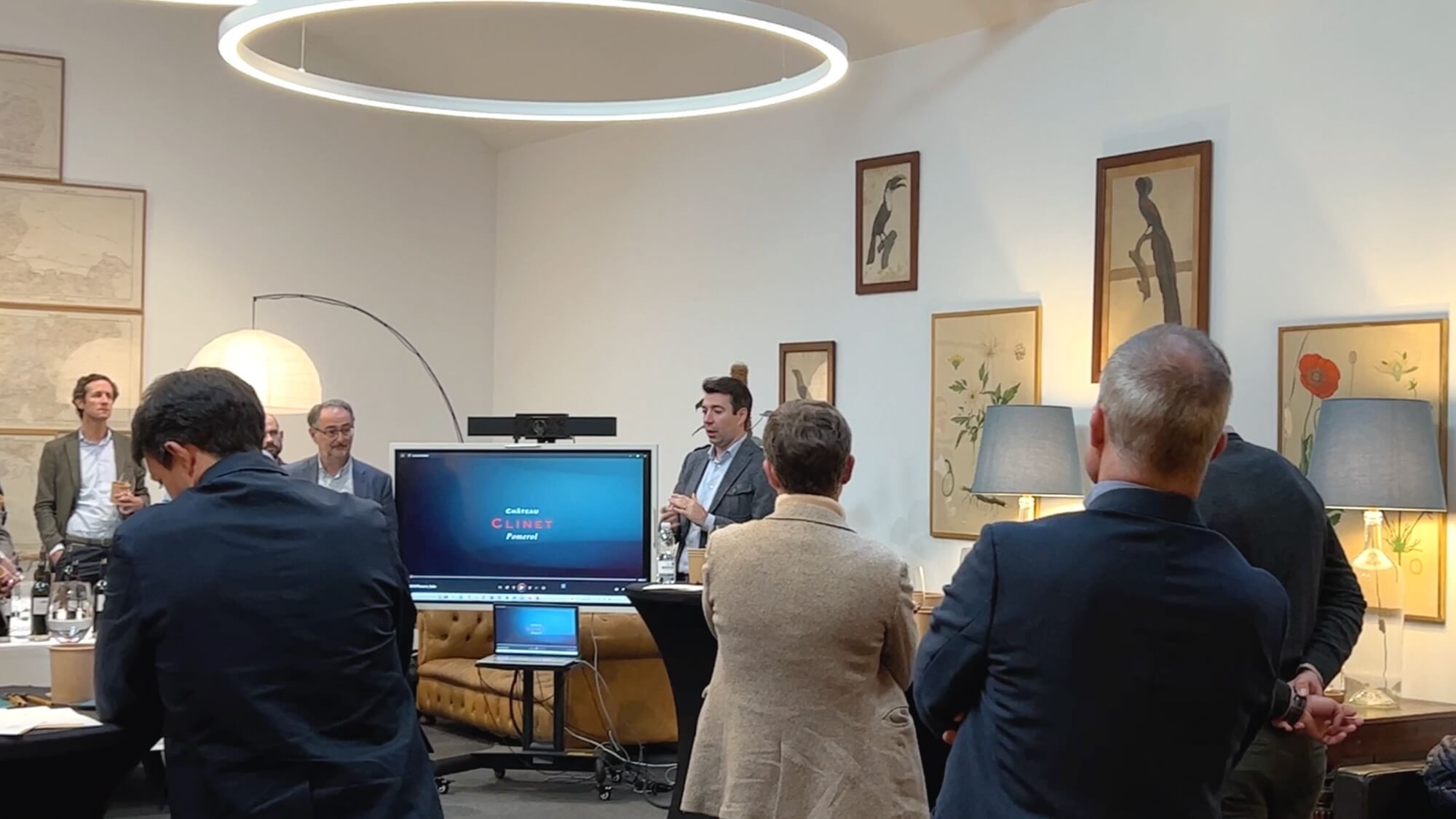 Technical Chapter:
In the realm of winemaking, Château Clinet adheres to a philosophy of "natural + precision." Tailored cultivation is devised for each plot based on its unique terroir characteristics. After harvesting, the grapes undergo an initial selection using the Delta Rflow, followed by manual selection, of course, berry by berry.
To faithfully express the uniqueness of each plot, Château Clinet has meticulously designed several small stainless steel tanks with a temperature-control system. Each tank operates independently, allowing the winemaker to employ vastly different fermentation strategies based on each vintage and parcel.
Typically, the wine ages in oak barrels for about 16 months. To maximize diversity during barrel-aging, Château Clinet selects oak from three distinct regions: France, Germany, and Austria. Different toasting levels and sizes are chosen based on the style of the wine, in order to get the most varied diversity. The finished wines are not filtered and not clarified before bottling, as Ronan believes this preserves Château Clinet's utmost purity.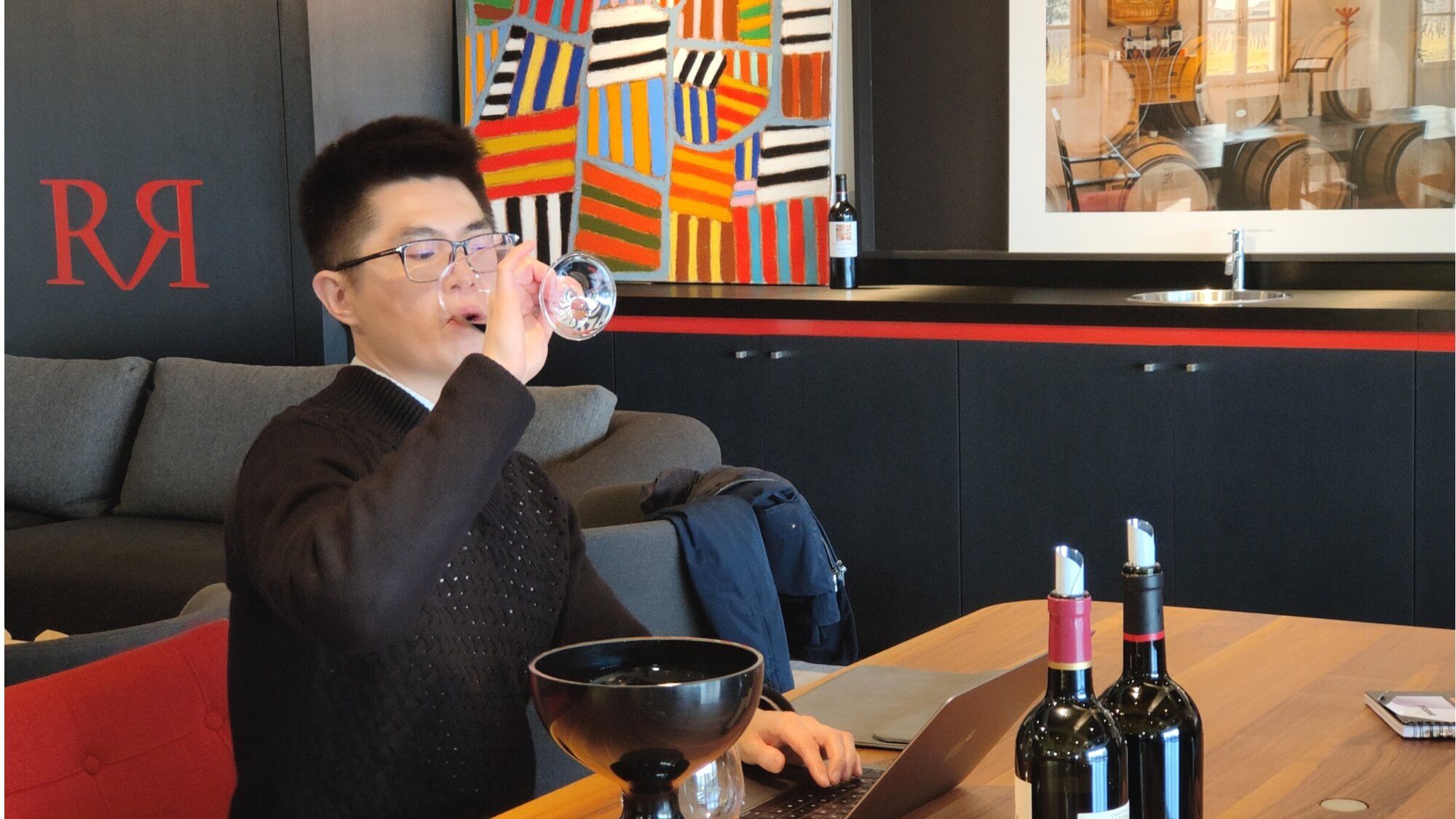 Among the 16 vintages tasted this time, the 2014 vintage deserves special attention. In my view, this vintage marks a turning point in Château Clinet's modern style.
Before this vintage, the fruits' fruitiness often achieved the limits. It fared well in milder vintages but could become somewhat overwhelming in hot vintages. For instance, the 2009 vintage—perhaps due to the samples tasted—seemed to evolve much faster than I had anticipated. On the other hand, the warmer vintages with beautiful acidity, like 2010 and 2005, Château Clinet often managed to showcase its terroir characteristics more effectively.
Since 2014, the once intensely ripe berries started to become clearer in their expression; the heavy mouthfeel turned into something more refined; even the once powerful tannins began to glide smoothly like flowing water. Even when faced with fervently hot vintages like 2015 and 2018, the fruit expression remained remarkably precise. Tasting it was like biting into a dark juicy cherry. As we move into the 2019 and 2020 vintages, Château Clinet not only optimized its rich and robust terroir characteristics but with a trace of a "left bank" manner.
Château Clinet's brilliance today is truly remarkable. In my view, its success can be attributed to three key factors: exceptional terroir, meticulous management, and outstanding aesthetics.
As one of the most "captivating and alluring" wines in the Pomerol, every encounter with it allows you to experience a pure and vibrant "Red Passion"!