AMA Vertical Tasting
Clos Saint-Martin
Clos Saint-Martin is a tiny yet beautiful vineyard that is the dreamland of Terroir from my point of view. It's only 1.36 hectares, which is even smaller than another famous vineyard, La Romanée-Conti, by half a hectare.
It's the perfect example of what I dream a vineyard life to be.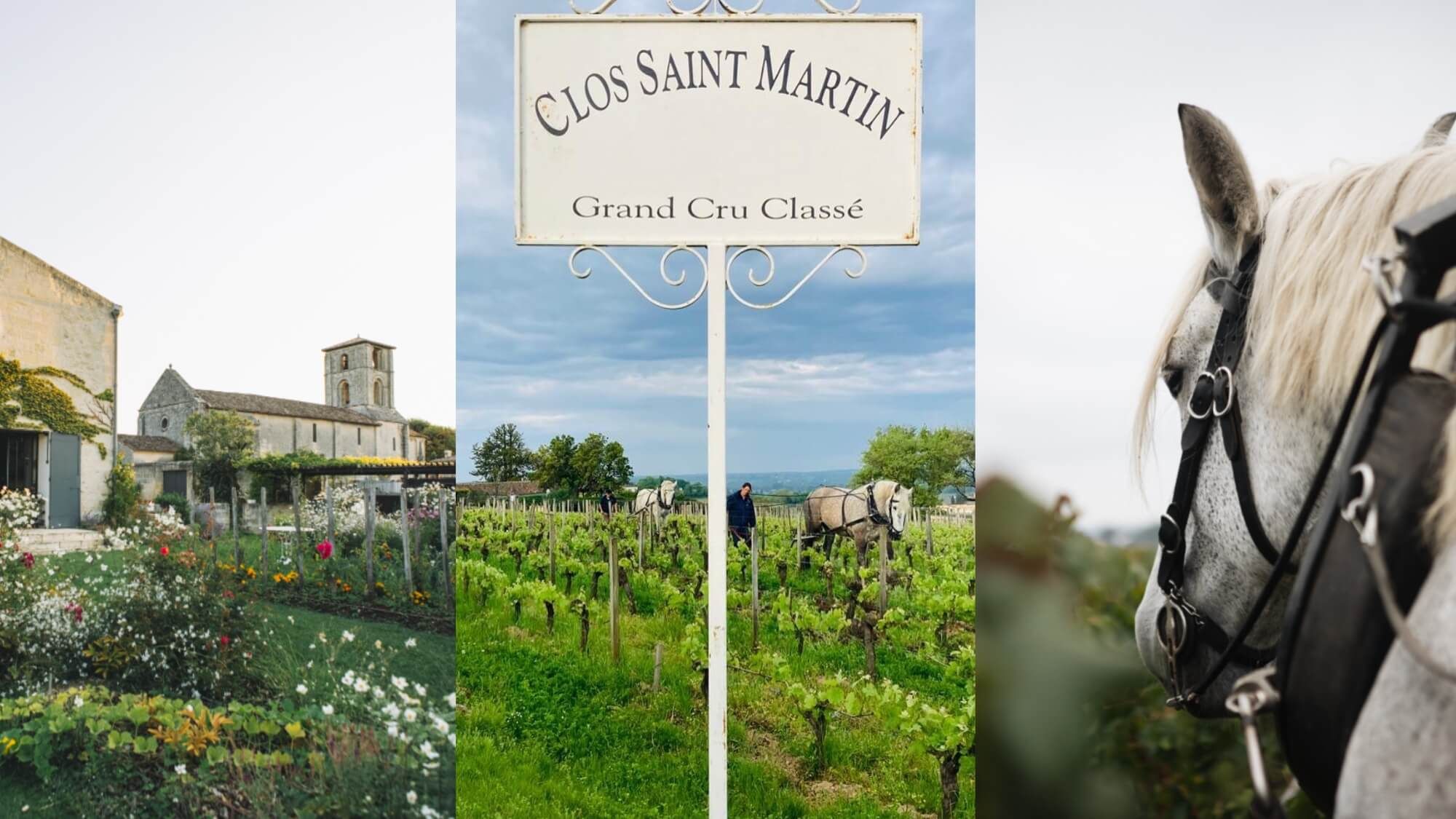 A Private Garden
Sophie, the owner of Clos Saint-Martin, calls it her "garden." She looks after every barrel of wine like they're baby birds and shares her passion for nature with everyone who loves wine. Even though the vineyard is small at 1.36 hectares and only produces 5,000 bottles a year, which might not make a lot of money, I think its value isn't just about money.
It's about a special way of life. Imagine waking up every day, having a cup of coffee and a fancy croissant in your garden. Then, you go out with your tools and your horse to look after your vineyards. It's just like a dream place from a story, simple and peaceful.
While grand Châteaux have their charm, there's something truly exceptional about a smaller gem like Clos Saint-Martin.
People here can take care of every grapevine in detail and are not too afraid of bad weather challenges. When I taste their wine, every vintage of Clos Saint-Martin tastes amazing. For me, "Clos Saint-Martin shows very subtle vintage variations; every vintage is a masterpiece."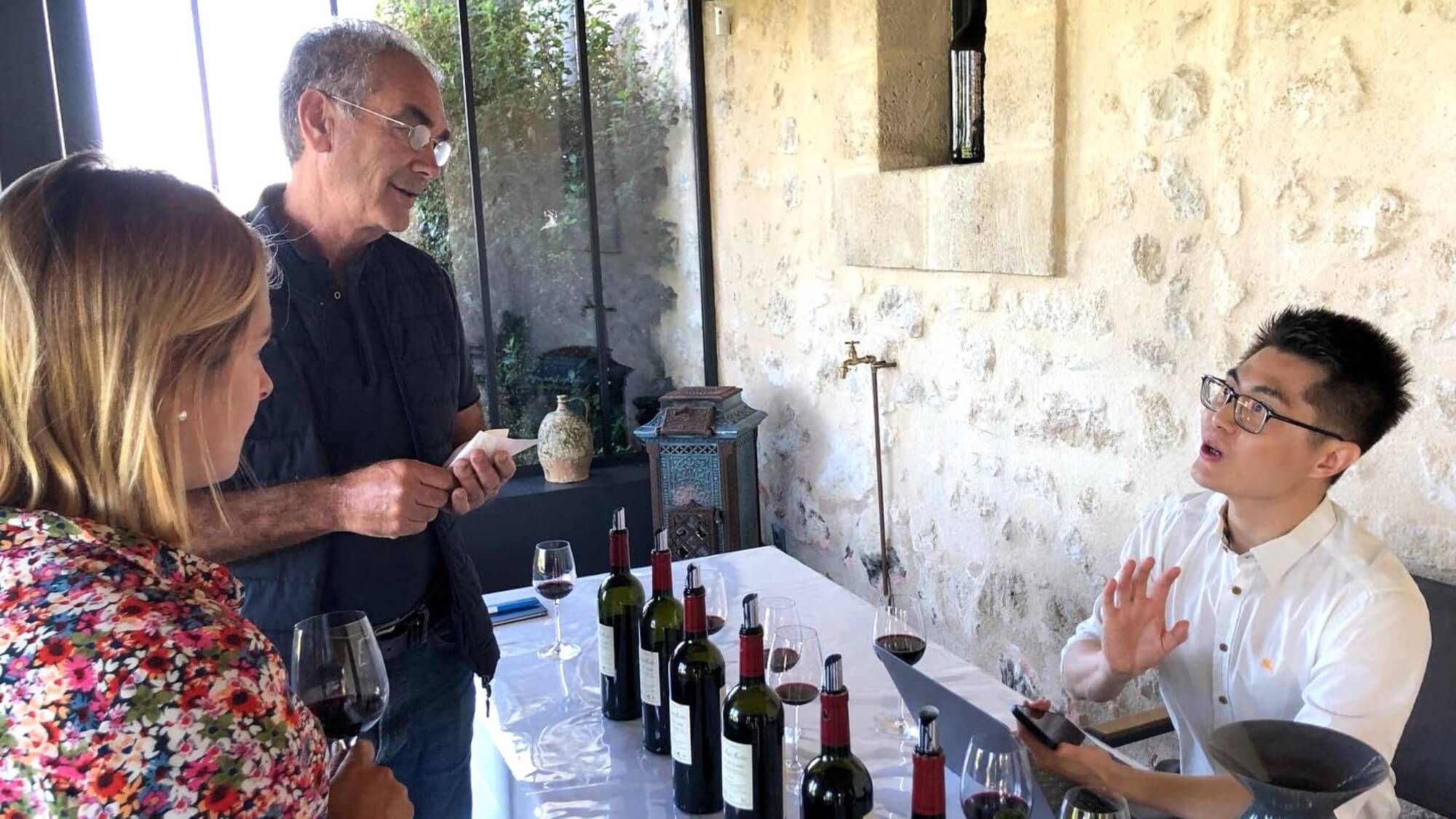 "Tiny Yet Beautiful" Winemaking Cellar
Clos Saint-Martin's wine cellar is small but looks great. It's about the size of a 3-person family house, less than 130 square meters. Inside the super clean cellar, you'll find some clay pots, around twenty wooden barrels, and a few small stainless steel fermentation tanks. Everything is so neat that there's not even a drop of spilled wine to be seen.
Forward-Thinking Winemaking Style
In 2016, Clos Saint-Martin made a big change. Before that, they only used <Fermentation intégrale>. But starting in 2016, they began using more clay amphoras for fermentation and aging. By 2023, they have 7 Tava high-density amphoras, in addition to 1 traditional amphora, making up 40% of their wine-making process. The wine's taste changed because of this.
Before the vintage of 2016, it exhibited a richer texture, a rounder body, and slightly sweet tannins. From my tasting of the 2010 vintage, it became even more evident that the tertiary aromas presented faster than expected, potentially leading to premature oxidation if not properly aged.
But wines made after 2016 are quite different. They taste fresher, with precise fruitiness and lovely floral notes. Even the limestone terroir's personality has become more prominent, upon finishing, you can always perceive the intriguing <chalky sensation >.
After alcoholic fermentation, the wine undergoes malolactic fermentation in new oak barrels and a portion of amphoras. During the first 4 months of the aging period, the winemaker employs a technique similar to stirring lees for white grapes, enhancing both the combination of tannins and more round body. So, when you taste their wine, you can feel a harmonious blend of strength and delicacy.
I got to talk with a winemaker named Benoit Turbet-Delof about the mix of oak barrels and amphoras they use. (By the way, Benoit retired in 2023, and now, a talented young woman named Camille Feyfant-Ricaud is in charge. She does everything at Clos Saint-Martin, just like a classic wine grower.)
In Benoit's view, young Merlot requires amphoras for fermentation to create a brighter, fresher fruitiness. In contrast, older Merlot vines, naturally more concentrated, are better suited for oak barrel fermentation, and also for barrel aging. This method gives the wine a richer mouth feeling and also makes it more concentrated.
Benoit gave some tips on how they decided to use oak barrels and clay pots based on the weather. He said: -In hot vintages when grapes are already full of flavor, they don't need too much from the oak barrels. So, they use more clay amphoras to keep the fresh fruit taste. In cooler vintages, when grapes aren't as strong, they use more oak barrels to give the wine a fuller body. But, they only do this if the grapes are perfectly ripe. For example, in 2017, they waited until October to pick the Merlot grapes to make sure they were just right.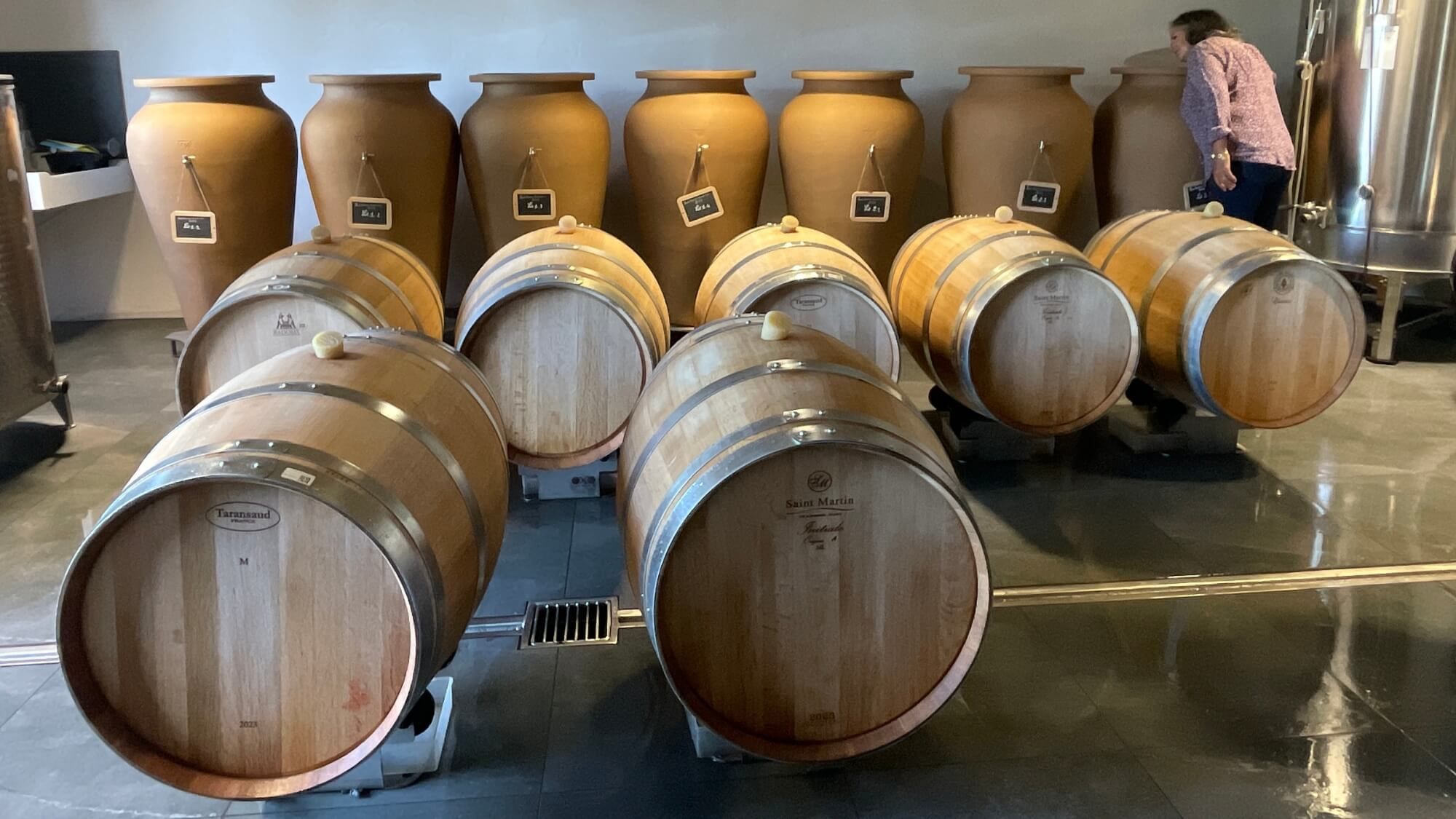 By the way, I would like to share the story of its current owner, Sophie Fourcade-Reiffers. Without Sophie, Clos Saint-Martin might have been acquired by a large estate long ago.
Her family once owned three Grands Crus Classés: Clos Saint-Martin, Château Côte de Baleau, and Château Les Grandes Murailles (Château Les Grandes Murailles merged with Clos Fourtet in 2023). As early as 1643, her family embarked on the wine venture at Château Côte de Baleau.
However, due to various reasons, they sold two of the wineries to the Cuivlier family. In 2013, Sophie, on the other hand, was determined to retain Clos Saint-Martin, ensuring that the Reiffers family's 300 years of legacy continue to flourish in Saint-Émilion.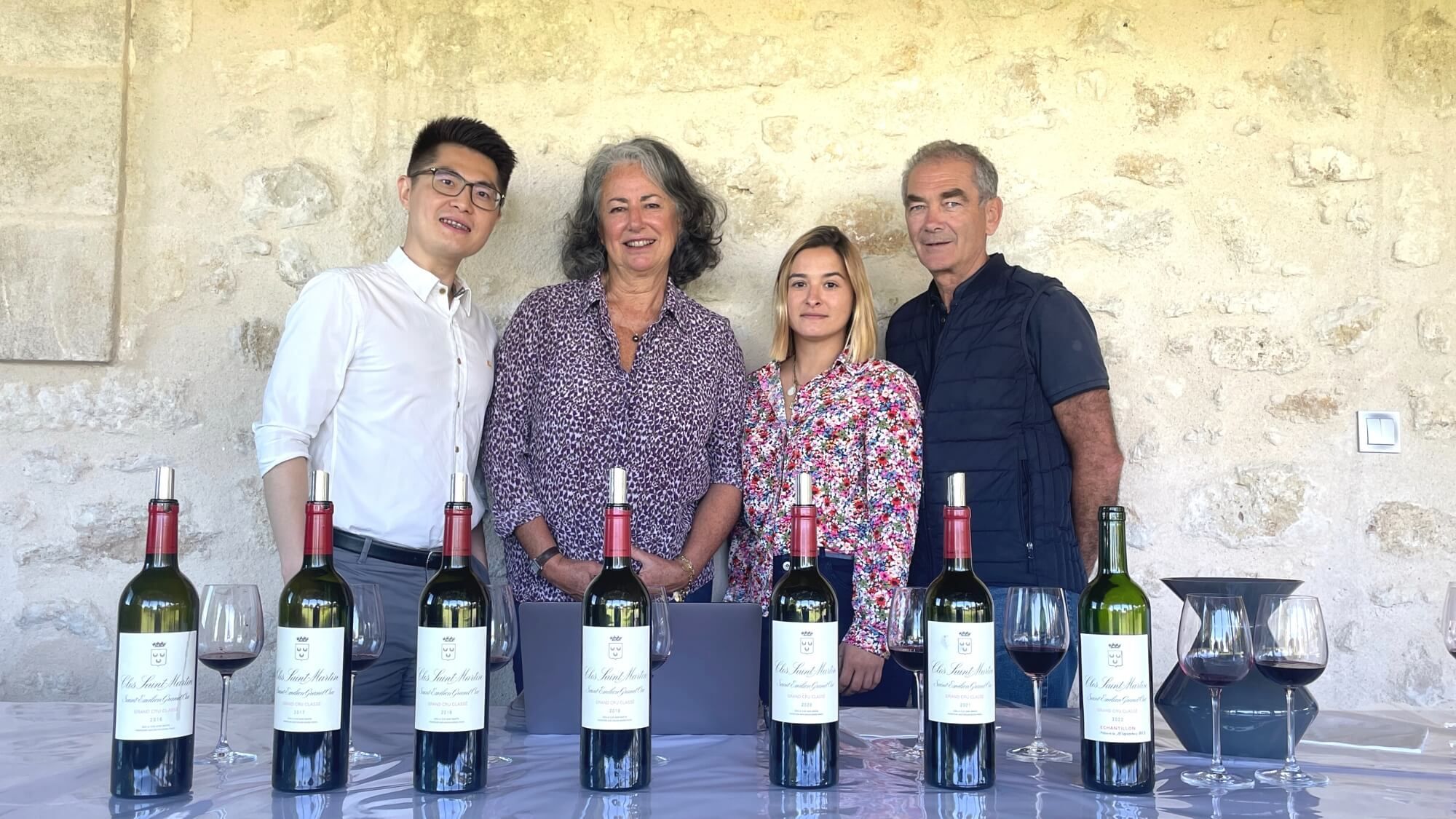 Tasting Impressions
For this vertical tasting, I had the pleasure of tasting nine different vintages, all of which underwent Double Decanting.
Thanks to Clos Saint-Martin's meticulous vineyard management and precise timing for harvesting, the differences of each vintage were remarkably subtle. When facing a generous vintage, it restrains itself, preventing the fruitiness from becoming too exuberant. In leaner vintage, it allows the wine to develop complexity through its winemaking process.
If you're not concerned about budget and wish to taste Clos Saint-Martin's top-notch vintages, I highly recommend starting with 2016 and 2019. However, if you're curious about the "subtle vintage differences" I mentioned previously, I strongly suggest tasting the 2021 and 2017, especially the 2021 – it will undoubtedly challenge your traditional thinking of this vintage.
A lot of my friends say it's hard to find Clos Saint-Martin wine in China. Since they make less than 5,000 bottles a year and it's a unique Bordeaux wine, it can be a bit rare. But, if you profit from your super social networks, you might be more easily. 😆
Alright, see you at the next vertical tasting!