AMA Vertical Tasting
Château Clerc Milon
(1976-2019)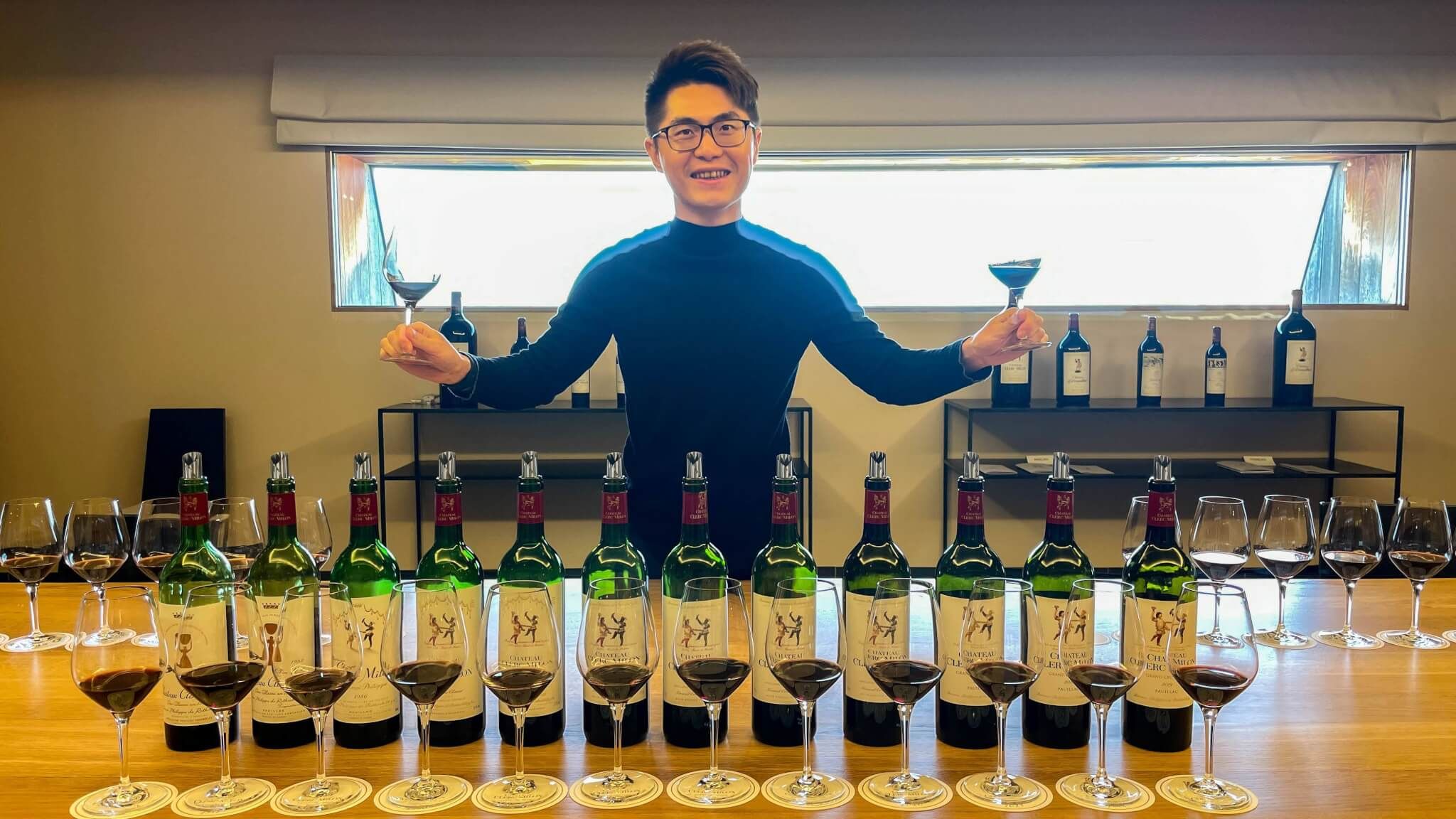 Château Clerc Milon, also affectionately known as "Shuang Gong" in China, gives me quite a mysterious impression. Although I have tasted this wine at Château Mouton Rothschild every year, I haven't visited it for the last 8 years. I've always wondered when I would be able to take an in-depth tour and figure out what gives Château Clerc Milon such a different GRACE.
Fortunately, things go my way. Not so long ago, Château Clerc Milon invited me to do a vertical tasting, and they generously prepared almost all the top vintages from 1976 to 2019. When I saw the rows of wines on the tasting table, I, a Northman from China, almost howled to the sky with rushing pleasure.
At the moment I finished my tasting, I realised that Château Clerc Milon would be the next Super Fifth of Pauillac. There are many reasons why I say this, but the core of its ace is its clay soil.
Château Clerc Milon's 41 hectares of vines are located in the upper right corner of the Pauillac, with the wide Gironde River not far to the right, and the two precious jewels parallel to it on the left, Château Lafite Rothschild and Château Mouton Rothschild. In addition to the classic gravel sandy soils in Pauillac, many of the parcels here have an essential clay component. In an environment of global warming, we experience more and more hot weather conditions, but Château Clerc Milon will not worry about it. In the case of the extremely hot and dry vintage like 2022, many Châteaux in the Left have suffered from severe water deficiency, but Château Clerc Milon harvested excellent grapes and is expected to make an elite.
Let's assume that if similar weather frequently occurs in the future, we may have to rethink what will be the Grand Terroir in Médoc. I think it is likely that clay soils with good water storage capacity will be the trump card of the new era, like Château Clerc Milon.
In addition, Château Clerc Milon has another great feature: the old vine of Cabernet Franc. Cabernet Franc has faded from the spotlight of Médoc over the last 30 years for various reasons, but it does work well in some vintages. In Château Clerc Milon, they often maintain around 10% Cabernet Franc in the blend. I was astonished when I visited a parcel of old Cabernet Franc near the Route des Châteaux. The new director, Mrs. Caroline Artaud, told me that this parcel performed very well in both cool and hot vintages. Taking the dry and hot 2022 vintage for example (Cabernet Franc does not usually like dry and hot vintages), they were surprised to find no problem with water shortage, and the aromas were quite refined.
I recommend my friends to taste the vintages of 2016 (13% Cabernet Franc), 2014 (11% Cabernet Franc), 2008 (10% Cabernet Franc), and 2005 (10% Cabernet Franc); these vintages will give you a more intuitive understanding of the importance of Cabernet Franc in Château Clerc Milon.
As for Château Clerc Milon's technology and craftsmanship, I don't think explaining too much in detail is necessary. From all of the wineries of DBPR I have visited, the precision has been deeply rooted in their bones: from the materials of fermentation tanks to the smallest piece of square oak on the wall, every detail illustrates the aesthetic concept of "low-key and high-class", making a man of perfectionism like me feel very comfortable during the visit. Sometimes you have to admit this golden rule in the world of wine, "DBPR makes great".
There is one more detail that I would like to share with my friends. When I was tasting the 2014 vintage of 2014, I suddenly felt a saltiness that had never been seen before, it is so special to feel a hint of saltiness hidden beneath the sweetness, which can be even more subdued on the finish. I shared this discovery with Mr. Jean-Emmanuel Danjoy. He nodded and said that their team had found this interesting taste since the vintage of 2012. It is generally light in hot vintages but can stand out perfectly in moderate vintages like 2014.
My friends in China always ask me which Château in Bordeaux will be the next "Next Big Thing" for investors. In my opinion, to be this kind of wine is so challenging, it must be perfect in every detail of viticulture and winemaking, it must have a team with an international perspective, and most importantly, it must find an opportunity to create a new concept in Bordeaux. Château Clerc Milon already has the first two features and its terroir with a high proportion of clay is trying to reinterpret the definition of Grand Terroir in Bordeaux against the background of global warming.
So, be patient and see what happens.
By Alexandre MA马先辰
24/10/2022
*Among the wines tasted, only wines above 90 POINTS  are listed