AMA Vertical Tasting
Château Jean Faure
(2009-2018)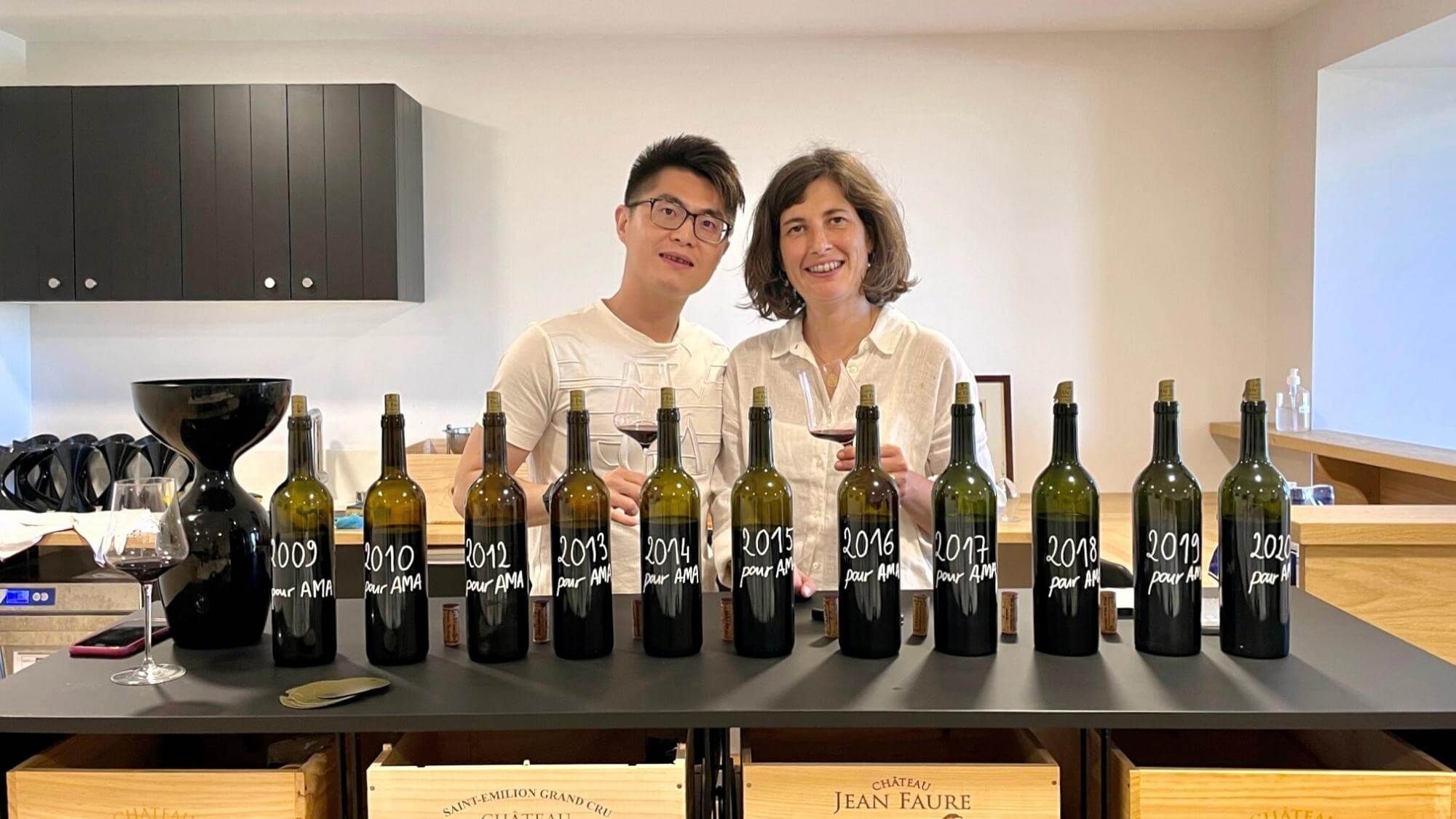 Château Jean Faure stands out uniquely in the Saint-Émilion family. It is also an alternative Grand Cru Classé that I particularly admire.
My first encounter with Château Jean Faure occurred with the 2014 En Primeur. And I still remember the sensations it brought to my palate: it is pure and juicy, amalgamating the scents of smoke and Pu-Erh tea. Different from other traditional stars in Saint-Émilion, it emits a certain seductive aura, which surprises you the moment you taste it. "Oh, it really caught me off guard!"
I later realized that such seductive aura comes from its 65% Cabernet Franc which is consistently over 50% in the blend, and its whole bunch fermentation technique that it is so proud of.
Today, let's take a look at Château Jean Faure and see if it represents the Bordeaux style you have been looking for.
Jean Faure's vineyards are located on the border of Saint-Émilion and Pomerol, less than a hundred meters away from Château La Dominique and Château Cheval Blanc. Taking a stroll in the fields, the first thing that came to my mind was that the terroir was not ideal. The vineyards are dominated by sandy soil, suitable for making simple aromatic wines. But don't be fooled. The essence of Château Jean Faure's terroir does not lie on its surface but on the clay sub-soil, the same blue clay soil as that in Pomerol.
The sandy soil on the surface heats up rapidly under the sun, making it a well-known soil facilitating early-ripening, where Merlot may risk overripening. Fortunately, 10-90 cm below the topsoil, there is all blue clay! With Cabernet Franc being planted here, not only will the risk of "early-ripening" be avoided, but also it will benefit from the water supply, which is indispensable to Cabernet Franc, provided by the clay. Therefore, rather than saying that Château Jean Faure chooses Cabernet Franc as its dominant variety in the blend, it would be more accurate to say that it chooses Château Jean Faure as its host.
The current owners, Anne and Olivier Decelle, bought the Château in 2004 and have since incorporated the "garden-style" concept into its vineyard management. After 10 years of natural adjustment, the winery not only obtained the organic certification in 2014 but has also made rapid progress in converting to biodynamic viticulture. A vision and courage that is not often seen among the Grands Crus Classés on the Right Bank.
In terms of wine, the winery stresses on purity and natural style.
From the recent five vintages, I can clearly see the winery focuses more on fruity aromas and moderating the toasty flavor brought by oak barrels. Taking the 2019 vintage as an example, only 35% of its blend is aged in new oak barrels, 15% in 1200-liter oak vats, and the remaining is spread among old barrels and concrete vats.
Judging from the tasting, the 2014 vintage is a milestone for Château Jean Faure. The unique freshness of "high-quality herbs" began to emerge from this vintage.
2018 vintage was when Jean Faure stabilized its style. With the refreshing sensation brought by herbal scents as the backdrop, the classic notes of black-ink and tar turned into a burst of flame, hot but not scorching.
On the top of its game would be the 2019 vintage. It carries on the beautiful genes of the 2018 vintage and places emphasis on the interpretation of the sandy and clay terroir.
After more than 10 years of careful cultivation, Château Jean Faure has managed to perfectly amalgamate the terroir of clay and sandy soil, the whole bunch fermentation technique, and the high percentage Cabernet Franc blend, delivering a compact, airy, delicate, and smooth palate that is rarely seen in Saint-Émilion. Those who embrace chalky texture do not possess the same "seductive" aromas, while those who present outstanding fragrances do not boast a similar compact aftertaste.
I would recommend this especially charming Saint-Émilion flower to every Bordeaux fan.
*Among the wines tasted, only wines above 90 POINTS  are listed