AMA Vertical Tasting
Château Pichon Baron
(1985-2021)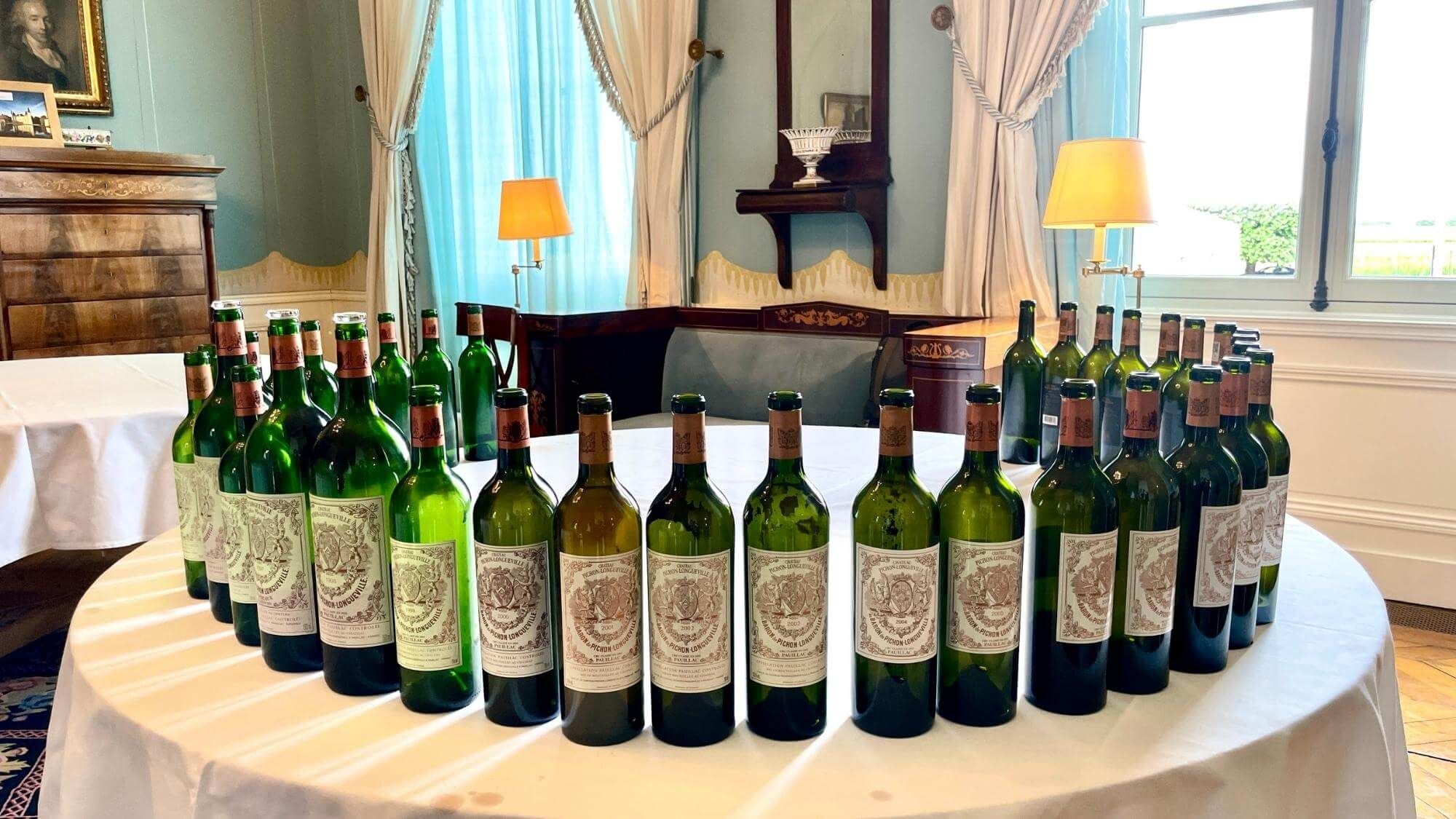 On this particular day that Château Pichon Baron's technical director Jean-René Matignon officially retired, the Château organized an unparalleled super vertical tasting to celebrate. As one of the invited wine critics, it is my honor to experience Jean-Réne's life-long efforts in Château Pichon Baron, and witness the 37 exclusive memories he left for us.
I was sad to learn that Jean-Réne was retiring. As the winemaker who has been the pillar of Pichon Baron for 36 years (37 vintages), he has done his part contributing to every achievement of the winery over the years. I believe he has been the reassurance of Pichon Baron's consistent high quality. With him as the winemaker, the market will find peace of mind.
I first met Jean-Réne during the En Primeur tasting of the 2015 vintage and wondered how he had known Pichon Baron so well. The way he talked about each vintage was similar to his talking about his own children. After joining the RVF tasting team, Jean-Réne and I would meet once or twice yearly. And I was blessed to learn from him the characters of his "newborn" every year. So much of my knowledge of Pichon Baron actually comes from Jean-Réne.
On the day of the tasting, I joked: "We spent a whole day going through each of the 37 years you spent at Pichon Baron. But this is far from enough. How about we stay for another day and keep doing this tomorrow?" Jean-Réne took me in his arms, smiling like a child, and said meaningfully, "Alexandre, please spread my passion for wine to more people. …" At this point, tears filled our eyes.
As someone passionate about wine, I can especially relate to how Jean-Réne feels. Saying goodbye to the place where he has worked for 36 years and putting a halt to making wines himself, means a lot to a skilled winemaking master.
Fortunately, Pierre Montégul, Jean-Réne's close friend, is appointed as the successor. The two of them frequently communicate at work and in private. As we say in northern China, "they are so close that they would have shared the same pair of trousers". Pierre is known as the "king of quality control" in Sauternes. And his strict control of grape quality would probably put most Sauternes châteaux out of business. So I am sure that Jean-Réne will feel at ease with this good brother and detail-oriented man leading the winemaking team. With time, we'll see what Pichon Baron's future holds for us all.
I attended a vertical tasting of Pichon Baron 3 months ago, savoring the 2010-2019 vintages. While at this event, I was surprised to find the whole set of 37 wines from 1985 to 2021, spanning across Jean-Réne's entire winemaking career. I can say that the last tasting has shown me Pichon Baron's confidence in his "unchanging" approach. While this tasting demonstrates its awe-inspiring consistency. In addition to the great vintages, many of the popularly believed mediocre vintages have also shown astonishing performances. I have selected some outstanding ones and would like to share with you how they are from different angles.
The 1986 vintage is surprisingly concentrated, with a full-bodied and calm expression, like a 36-year-old lady with a delicate appearance of a young girl…
The muscular 1990 vintage showed me the majesty and power of an awakened lion. Compared to many of the Médoc wines of the 1990 that were affected by Brettanomyces, Pichon Baron maintains a surprisingly good shape.
The 2000 vintage displays a rare savory flavor amidst its matured notes. The soft, glutinous, and lush mouthfeel gives you the illusion of eating a sea-salt caramel pudding.
The 2001 vintage is another testament to the excellence of the vintage and is of great value. Compared to other vintages that bring riper flavors, I particularly admire the elegant and crystal-like taste of the 2001 vintage.
The 2003 vintage does not show a "ripe while green" image at all. The mellow and rich mouthfeel resembles that of the old Priorat.
The three so-called mediocre vintages of 2004, 2006, and 2008 perfectly illustrate Pichon Baron's mastery of ripeness. That is especially true for the 2008 vintage, which I would never have guessed right in a blind tasting. It is also a good value-for-money vintage.
The 2009 and 2010 vintages are both among the "Immortal Legends", representing the top of Pichon Baron that can gradually grow with you without leaving any wrinkles.
I personally prefer the richness of the 2019 vintage to the compact 2016. Both the vintages possess good acidity, but the 2019 clearly has a brighter smile and is ranked among the top 3 Pichon Barons in my mind.
Having tasted these 37 vintages, will you genuinely understand Jean-Réne's mastery, especially his interpretation of mediocre vintages. I hope he will enjoy his retirement with lots of good wines and that Pierre will follow in Jean-Réne's footsteps and continue the Pichon Baron Legend with the new cellar to be completed next year.
By Alexandre MA
25/06/2022
*Among the wines tasted, only wines above 90 POINTS  are listed