AMA Vertical Tasting
Château Saint-Pierre
(2015-2019)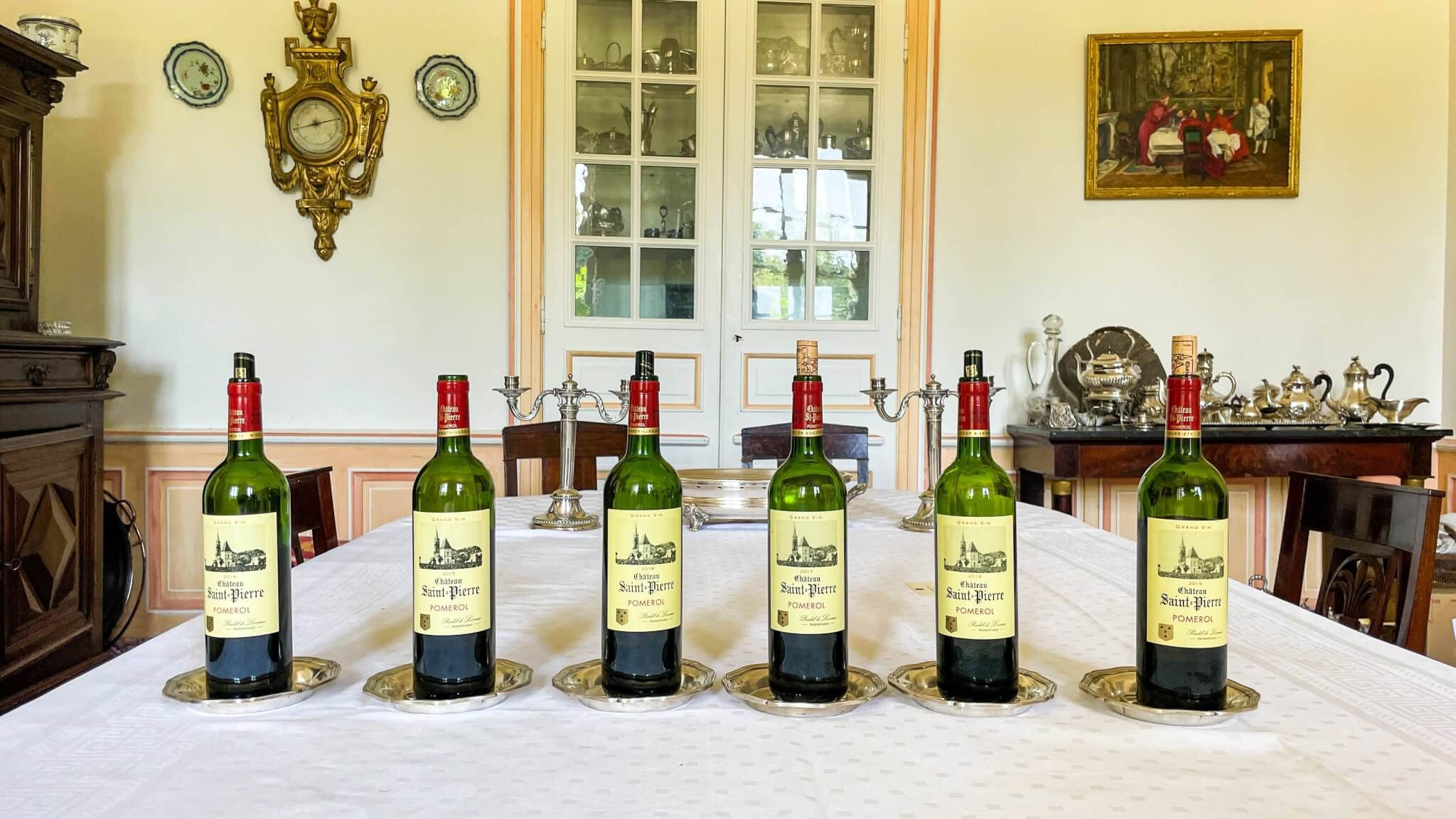 Today I would like to recommend to you a hidden gem, one that I have recommended to my friends many times, a tiny winery in Pomerol with an area of a mere 1.6 hectares, Château Saint-Pierre.
With an annual production of just over 6,000 bottles, the winery does not enjoy much market exposure. But, the truth is that the four plots of Château Saint-Pierre boast the top-level terroirs that are highly sought after in Pomerol, a treasure known to the insiders. Here, gravel-clay soil and gravel-sand soil dominate the vineyard, possessing the potential to compete with the Pomerol Grands Crus.
These four plots are located on the left half of the Pomerol plateau. Written below is the detailed description of each plot, in the order from top to bottom.
Cocu:
Located north of Château Clinet; gravel-clay soil; planted with all old Merlot vines.
Les Écoles:
A tiny plot on a small plateau halfway between Château Trotanoy and Château Clinet; classic gravel-clay soils dominant; currently planted with young Cabernet Franc.
Saint-Pierre:
This plot enjoys a prime location, the next-door neighbor of the Church of Pomerol, and just in front of Château La Fleur-Pétrus. With gravel-sand as its topsoil, it takes pride in the blue clay soil deep under the surface. It was replanted with young Merlot vines in 2016.
Certan:
As suggested by its name, this plot is located right next to Vieux Château Certan, on the bottom left. Gravel-clay soil, with a mix of sandy soil, dominates this part, composing a relatively early-ripening vineyard. It is planted mainly with old Merlot vines that will bring structure to the wines.
In my opinion, 2014 was the major turning point for Château Saint-Pierre. It was in that year that Axel Pradel de Lavaux, the ninth generation of the estate, officially took over the winery and put forward a series of evolutions that shaped Château Saint-Pierre as it is today.
To start with, Axel brought in Frédéric Massie from the Derenoncourt Consultants team as the wine consultant. His responsibilities not only involve directing the winemaking tasks but also helping the viticulture team in all aspects. From my conversation with Frédéric, I learned that the vines of Château Saint-Pierre are now in their perfect condition after several years' adjustment.
Secondly, the winery has replanted two of its plots according to the soil types. In 2016, the winery blended some young Merlot from the Saint-Pierre plot for the first time. Two years later, Cabernet Franc was planted in the Les Écoles plot and later blended into its first label.
The last move can be considered the most daring attempt by Château Saint-Pierre, from my point of view. In 2016, the winery experimented for the first time with whole bunch fermentation (2-3%). Putting it in today's context, the whole bunch fermentation technique is still an absolute rarity in Pomerol. The sensation brought by such a technique has been particularly evident since the 2017 vintage, delivering a unique freshness that resembles that of the aged Yunnan Pu-Erh tea. We can say it's a masterstroke that brings out the best of Merlot.
I am pleased to be invited by Château Saint-Pierre to taste their Les 6 Premiers Millésimes (2014-2019), a vertical tasting set of 6 vintages that will be available on the market soon. Among them, five vintages have been listed as the AMA's recommendation. Interested in finding out more? Don't miss the tasting notes on the website. Happy tasting!
By Alexandre MA
03/07/2022
*Among the wines tasted, only wines above 90 POINTS  are listed