AMA Tasting Report
Premium Bordeaux Blends in Tuscany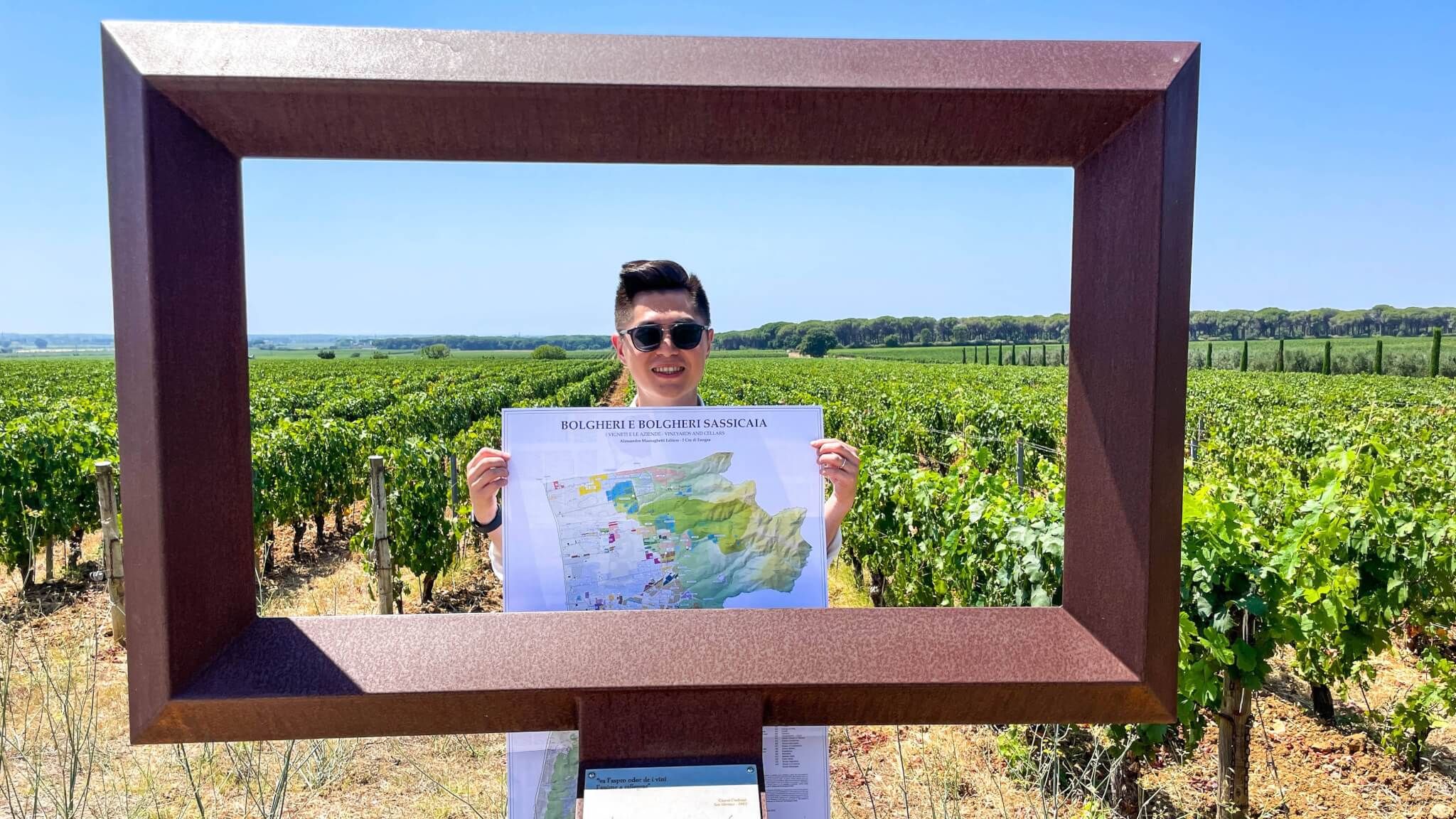 Have you ever been curious about what it'd be like to drive 4,000 km in two weeks and visit more than 30 wineries in 37 or 38 Celsius degrees heat?
I don't know if you've had a similar experience, but as the person in question, I'd like to say, "The whole experience is too thrilling to recommend trying for non-essential situations." Although my delicate face, which is described as 'fair skin' by many friends of mine, was bronzed; and my car tires were heavily weather-beaten, the journey is definitely fruitful. I unlocked several skill sets at once, especially with the top flow Bordeaux blends from the Tuscany region.
Some of you may ask, "Why did you focus only on Tuscan Bordeaux blends and not on Tuscan wines as a whole?" From the perspective of a young wine critic, I not only wanted to explore more regions, but I also wouldn't like to get overstretched. I chose Bordeaux varieties because I live right in Bordeaux and the habits of these varieties are no stranger to me; I chose Tuscany because it has a large enough base number in the field of Bordeaux blends, and it's worth discovering more systematically. In addition, the quality of Bordeaux blends from Tuscany is outstanding and the winery is very hospitable, which is especially suitable for a wine critic like me who likes to babble, haha!
Of course, there is another important personal reason: I am a big fan of the Renaissance, and I hope to visit the original place where the Renaissance was born every year, and to find out more inspirations about beauty and life.
So, I will share with you the accumulated experience and insights in the past half a month or so, hoping to give you some inspiration if you also like Tuscan wines.
Formula 1 VS Rally Race
Since this is a Bordeaux blend, it is necessary to compare with Bordeaux. In my opinion, if Bordeaux is the ultimate elegant Formula 1 in the racing world, touching extreme speed in the most gentlemanly way, then Bordeaux blends in Tuscany are the blood-pumping rally, igniting passion in the purest way.
In Bordeaux, we all play with similar concepts and aesthetic levels, only focusing on different details. If we want to build a top-ranking Grand Cru, we need to be super proficient in all winemaking skills, so balance and elegance become the core of evaluating quality. In Tuscany, on the other hand, the philosophy and aesthetics are quite different, a single gimmick that can bring out an iconic winery, which can be swift and airy, or powerful and robust, etc, so it is easier for us to feel their natures and their essences.
Italian-Styled Passion
Every Oriental who sets foot on the Apennines for the first time should be able to feel Italy's innate warmth, which is presented in Italian music, painting, architecture, food, and even in every cell of the Italian people. If you were a pretty lady, you would probably hear more lovey-dovey words while strolling through the streets of Florence than you've ever had before.
Of course, this "passion" is also evidenced in the wines of Tuscany. Thanks to the sunlight of the warm Mediterranean summer, the Bordeaux varieties here never lack ripeness, and I was often struck by the energy that burst out when I tasted them.
Plus, do not forget those winemakers whose hearts are as hot as the weather. Lorenza, the owner of Castello di AMA, told me that she didn't care how much money she made or what kind of premium consumer channels importers took her wines into. All she wants is to bring her consumers the spirit of Tuscany through her wines and the passion and love she has for Tuscany.
When Paolo Panerai, the owner of Castellare di Castellina, heard that I was coming to visit the winery, he insisted on giving me a webinar presentation even though he was in Milan, somewhere far away from me, because he had been to China in the 80s and 90s. He wanted me, a young wine drinker from the far East, to feel the Tuscan hospitality.
Inland VS Coastal Regions
The wineries I visited were mainly around Bolgheri, near the sea; and Chianti, near the Apennines, and I almost had experienced enough of the microclimatic differences between the two regions. In Bolgheri, the temperature at 9 am was not far from that of noon, and I could not sleep at night without the air conditioning, but in Chianti I could feel the temperature difference of up to 20 degrees between day and night, and every night I went to the bar in Plazza for enjoying a drink and a breeze. Because of this, I can always feel the more crisp acidity when I taste Bordeaux blends from the inland mountains, while that from the coastal regions have more mature and fuller aromatic layers.
The Concept of "Growing Gight Grapes in the Right Field" is Deeply Rooted
I still remember when I was taking Italian Wine Scholar courses, there was a particularly funny description of Italian viticulture. It said that the modernization of the Italian wine industry only began in the 1970s, and before that, a field was often planted with many different varieties so that sometimes the winegrowers didn't know exactly what they were growing.
Judging from the things I saw on my visit, this is not a common phenomenon, and the concept of "single vineyard" has gotten more popular. The esteemed Masseto, for example, is a large single vineyard tucked away on a blue clay hillside east of Bolgheri, surrounded by a large wooded area. There are so many examples of that and I can easily name those which deeply impressed me: L'Apparita from Castello di AMA, L'Alberello from Grattamacco, and Aria di Caiarossa from Caiarossa…
Will 100% Cabernet Franc be a Huge Hit?
I came here with personal interest. I wanted to see how the local 100% Cabernet Franc was doing, which is becoming more popular. Maybe because my aesthetic of Cabernet Franc is too "French", or maybe I haven't tasted enough, I wasn't totally convinced by the local 100% Cabernet Franc. In my opinion, Cabernet Franc must be "fairy-like", holy, and unattainable like a nymph. The slender body, bright acidity, and ethereal profile are the unique qualities that are essential to the first-ranked Cabernet Franc. But most of the 100% Cabernet Franc I have tasted is a bit too mature, so when the delicate Cabernet Franc becomes a "beauty from the Tang Dynasty", it seems to have less of an enticing "fairy-like" quality.
But there's an exception: a certain 100% Cabernet Franc that has won me over, Le Macchiole's Paleo. They generously let me compare the 2018 and 2017 vintages of Paleo, and I was so excited that I almost screamed once I took a sip. the 2018 Paleo was so memorable, this mild vintage had that ebullient quality that drives me deeply. I highly recommend it to those who like Cabernet Franc give it a try.
What is Bolgheri's Ace Terroir?
The big finale to close this article goes back to my favorite theme: Terroir. I would like to use my personal experience to tell you about what kind of "terroir" can make top Bolgheri.
First of all, only Bolgheri with clay soil is the real Bolgheri. From my tasting experience, all Bolgheri wines from sandy soils, though they have a very mellow and juicy taste, never reach the innate concentration of those from clay soils' vineyards; the aromatic layers after aging can not match those from clay vineyards either. But the fact is that Bolgheri does not have a large proportion of clay vineyards, mainly distributed on both sides of a north-south road running east of Bolgheri, and you can find almost all the Grand Vins along the road.
Most of the vineyards in the Bolgheri appellation are in fact mainly sandy clay, and they are more or less located in an area close to the Mediterranean. So, when choosing Bolgheri wines, you can always make your decisions based on the terroir differences. If you like the gentle type, then the sandy soil it is; if you enjoy the tight and concentrated type, then the clay soil would be more recommended.
Secondly, when it comes to altitude, Bolgheri's terrain is like an ancient Roman amphitheater facing the sea, with a drop of up to 100-150 meters between the highlands to the east and the flatlands to the west. The vineyards with high altitude not only have all the benefits of diurnal temperature range, but they also enjoy more cool sea breezes. For the Bolgheri that are profoundly influenced by a Mediterranean climate, whoever enjoys more sea breezes will have the last laugh. The vineyards of Ornellaia, near the village of Bolgheri, and the vineyards of Grattamaco, are both classic interpretations of the terroir here.
Finally, I would like to urge you to follow the southernmost mountain area of Bolgheri from now on. The terroir here, despite its later development, is excellent, especially the Argentiera's vineyards, which not only is clay-rich soil, there are also lots of large volcanic rocks on the surface, an absolute godsend for making top Bolgheri. In addition, the altitude of the vineyard is also remarkable. Standing in the 150-200 meters high of the vineyard, enjoying the sea breeze, even if the sun is 37 degrees Celsius, I do not feel too hot. This will be an important part of Bolgheri's "clan" map, with a new vision of the appellation.
Exploring the Bordeaux blends of Tuscany in such depth gave me unparalleled pleasure and motivation! Although I was not able to cover every winery on this trip, I believe that a good start is half of success, and I will continue my journey of discovery in Tuscany in the future to share more interesting and informative experiences with you!
Tuscany, until next time, Ciao…
PS: Special thanks to my good friend Jingjing, who has brought me great surprises during the journey.
By Alexandre MA马先辰
30/07/2022
*Among the wines tasted, only wines above 90 POINTS  are listed